Exotic Mangroves of Emerson Point
Most people are familiar with the Sarasota & Manatee area because of our beautiful white sandy beaches, specifically Siesta Key Beach. However, there are many other reasons to love our area. We are on the beautiful Gulf of Mexico with exquisite blue waters, warm temperatures and we are abundant with wild life. We see many examples of wildlife on our kayak tours of the exotic mangroves of Emerson Point, such as:
• Bottle Nosed Dolphins
• Manatees
• Black Mangrove Crabs
• Pelicans
• Osprey
• Egrets
• Sea Stars
• Sea Urchins
• Herons
• Roseate Spoonbills
There are so many more, this is only a few.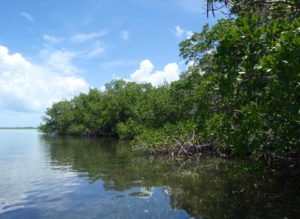 When you kayak through the exotic mangrove tunnels, you are taking an adventure on the very habitat that sustains many of these beautiful creatures. In Florida, we have three native species of mangroves.
• Rhizophora mangle — red mangrove
• Avicennia germinans — black mangrove
• Laguncularia racemosa — white mangrove
Mangroves are like a protected nursery for fish, crustaceans, and shellfish. They are also vital to our fishing industry, both sporting and commercial. An estimated 75% of the game fish and 90% of the commercial fish species in south Florida depend on the mangrove system. The branches of mangroves also serve as nesting areas for coastal and wading birds such as the ones listed above. Not only do they provide habitat and shelter for animals, but mangroves also protect uplands from storm winds, waves, and floods.
The seeds or pods that float in the water looking for their next sprouting ground can also be used to brush your teeth! Try it the next time you take a kayak adventure in the exotic mangroves of Emerson Point.